Part 7. The English in France. Getting to know Dubrovnik.
The glorious weather that had followed us faithfully for two months now broke, and it started to rain.  In those first sleepy wakeful moments, listening to the rain pattering on the caravan roof, I felt it was a bad omen.  I looked at where Bruce usually lay and felt desolate.
A taxi, somewhat unwillingly, had brought me back to the village at around 4.00 in the morning.  I fell on to the bed fully clothed and went out like a light.  It was almost seven when the rain woke me and I sat drinking scalding tea for a good half hour before I was able to attempt to talk  myself out of the feeling of hopelessness and the threatening cloud of depression.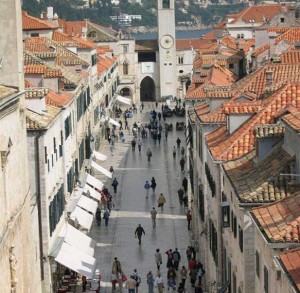 The old town of Dubrovnik is stunningly pretty, with a maze of small streets leading off a main thoroughfare.  Parts are very steep.  Small shops and cafes dot the sidewalks.  I walked round and round several times, and walked the entire ramparts at least twice, walking and walking, rain or shine – and it rained a lot that week.  George was way too old to walk with me.
A bark from George made me get up, dishevelled and probably smelly, and I walked him along the beach a short way, both of us getting wet, and wondered what to do next.  It was the first and last time I wished I hadn't got George.  The simplest thing for me to do was to check myself in to an hotel near the hospital, but plenty of hotels don't take dogs and even fewer will take a Great Dane.   George was an old man and couldn't be left.  He was aware something had gone terribly wrong and, although I tried to reassure him, I felt I had enough on my plate without having to worry about him.   I also had to do something with the caravan and the car, phone the insurance people, let the children know what had happened, take stock of my situation.
It was gone eight when I left the camp, George in the back of the car in his normal place.  Leaving the caravan where it was, the first thing was to get to the hospital.  I negotiated my way along the cliff and up on to the main road.  I have always been very good at finding my way and I always know which way I am facing and in which direction to turn.  And, having lived abroad the greater part of my life, in one country or another, finding my way through villages and through Dubrovnik, an hour later, to the hospital, did not phase me.  There is always a solution, I had taught my children, it is just a question of finding the solution.  I tried to remind myself of that.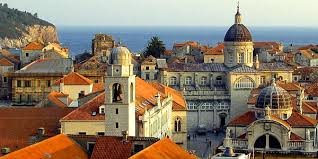 Now one of the main tourist destinations on the Med, Dubrovnik has been an important sea port since the 15th Century, though its history pre-dates that.  It was first "put on the map" from a modern point of view by the building of an hotel in 1897.  It is a UNESCO world heritage site.
Bruce lay on his bed, one of the first rooms on the ground floor.  He was asleep.  His eye had a large bulging bandage over it and he looked ashen.  I set off to find the doctor and was told she'd be there at around 10.00, so I got in to the back of the car with George, my toes up under his ears the way he liked it, and dozed.
The same beautiful doctor was ready for me when I returned to the ward.
"Is not so good," she told me.   "The bleed must stop.  I must operate tomorrow, no bit later."
"Is it a detached retina?" I asked.
Her English wasn't good enough.   I asked her to look up what it was in English, but she – understandably – wrote it down in Serb and said I could look it up.  She was way too busy as it was.  I thanked her.  I asked her if she would leave surgery till she seriously had no option.
"The bleed must stop," she repeated, "but if he stop, your husband lucky man, lucky, lucky, lucky."
She pronounced it lacky.  Lacky, lacky, lacky.  That has always stayed in my mind.
Back on the ward Bruce was awake.  I kissed his poor parched mouth.  He felt hot.  He smelt of hospitals and unfamilar things.  He said the pain was terrible.
"I'm very hungry," he announced.
Suddenly, like a black cloak falling off my shoulders, I knew it would be all right.  My husband was going to be lacky.  Lacky, lacky, lacky.  I just knew it.  Something about him declaring he was hungry – oh, he was always hungry! – broke the evil spell, and the clouds cleared outside, the sun came out and, just like a page turning in a book, I returned to my usual positive self.
    I have got a vague memory of the campsite being called "Solitude" or something similar.  What I do remember particularly, apart from it being walking distance from the hospital (this was important so that George could stay in his den in the car, parked by the caravan) was that the red clay underfoot turned thick and sticky and built up under my shoes as I walked so that I felt I was walking on platforms.  I had to scrape the clay off and then wash the shoes at least once a day.  Around the camp site, which was half empty, I found concrete slabs which I hauled, with considerable effort, over to the caravan so that I could make a sort-of path between caravan and car, and caravan and gravel road.
In the hospital lobby I found a stand selling an extremely humble selection of stale sandwiches and a few cans of fizz.  I bought several things and took them back to Bruce.  He had fallen asleep again.  I now knew what to do.
A quarter of an hour later found me driving slowly round a large camp site not far from the hospital.  George, sensing that I needed company, had clambered over on to the front seat next to me, something he was not allowed to do and which he never ever did.  Funny how he understood that I needed support.  He sat there like a majestic sentinel, turning his head this way and that in unison with me as I searched.  Wozzit? wozz-you doin? Wozz-you looking for? he huffed.
"We're looking for a huge caravan like ours," I said, "with a driver accustomed to manoevering it."
I located one just as I was starting to feel a bit despondent.  It had Danish plates on it and, sure enough, a Danish couple in their early seventies I should think, looked up as George and I approached.
I explained my problem.  I am fine towing the caravan in a straight line I told them, I am fine going round something normal like a roundabout …. but these narrow roads and steep cliffs are just not my thing.  I need to be near the hospital … and I told them about Bruce.  They listened kindly, asking me to repeat things from time to time as their English was not good – though vastly better than my Danish! – and after a few moments the man said:
"I will help you," and with no further ado he walked over and got in to my car.  Just like that.
The drive back to the caravan seemed endless, not least because I was worried about Bruce.  Conversation was difficult and it started raining again, though it was still hot.  Back at the camp site the Germans asked about Bruce.
"Nicht gud," I told them, but made no attempt to explain further.
    Me walking round the ramparts of Dubrovnik.  I can't think who took the photo, but I frequently got chatting with people.  Clearly a rain-free day, though I remember it mostly as raining – I suppose because I was not in the best frame of mind.
They helped hitch up the caravan and with lots of yelling things like "links! recht! sehr gud! ein bisschen!"  guided the Danish chap out of the campsite and in to a straight line just inches from a sheer drop.  They all waved goodbye and I never gave them another thought till I wrote this.   Many months later I realized we had paid for a full week there … but at the time it was absolutely the last thing I was going to worry about.
The 40 km drive back to Dubrovnik seemed even longer.  Every now and then the Danish man said "hot chair" to me.  I smiled and agreed, and wondered why he was saying it.  Perhaps it was what Danes say to each other.  I looked out of the window and the sea, now grey and splotchy behind the glass, heaved gloomily.  The windscreen wipers started making an irritating scratching sound.  Hot chair, said the Dane again.  Yes, yes, lovely I replied and smiled.  I realized I had been clenching my teeth and a headache was threatening somewhere in the back of my skull.  Everything was going to be fine, just fine, no clenched teeth.  Hot chair, repeated the man.
He installed me in a suitable position in the Dubrovnik campsite, and helped me rig up water and electricity.
"I hope your husband good," he said.
"Thank you. Thank you so much for all your help. What is your name ?"
"Johannes," and he dipped his head slightly.
I hugged him.
"Johannes, you are a good man," I said.
"Yes," he replied.
The following day when I got in to the car I realised the seat heater was on.  Hot chair ! The poor man must have been boiling.  I hope he didn't have piles.