Buildings: amazing places to visit in the Charente Maritime
Places for you to visit, not far from us at Rochebonne, Charente Maritime. The French sometimes call it "le 17" as the number of the departement.  The following are an easy drive.  www.seasidefrance.com
 Brouage, about 10 mins in the car. The wiggeldy road leading all the way to it across the marshlands was built with English labour while the area was under English control up to 1450 or so. You can walk all round the ramparts. A couple nice places to eat, a few little shops, small museum.
 Mornac-sur-Seudre. This medieval market place is situated in a most pleasant riverside village, well worth a visit.  During the 18th century the market was also used for musical events and village plays. There is a 12th century church, lots of "artisanal" shops, quaint little streets, a small port and several really good restaurants.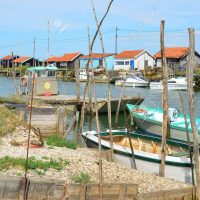 The port of La Cayennes, about 4 kms from us at Marennes. Traditional fishing huts and boats, a couple of places where you can taste oysters, and three good restuarants – the one at the end being a bit pricey for a family sortie.
The "Grottes de Matata" are cave dwellings, occupied until 1971. They are located located along the limestone cliffs of Meschers sur Gironde. Open to the public with a restaurant and a museum.
  le Chateau d'Oleron.  The little town is called Le Chateau and has this magnificent fort (1793) and one of the best markets around.  On the island, about 20 mins' from us.  The Sunday market at Le Chateau is great.
 Fort Boyard.  Built between 1808 and 1857, this garrison held 250 soldiers up to 1913 when it was put out of use. You can take a boat trip out around it, leaving from Fouras (20-30 mins from us, further up the mainland) or from Boyardville, on the island of Oleron.
  Talmont. Once a dirty backwater, this is now a very pretty village with several quaint shops and restaurants. The cathedral, sitting on the cliff edge, was built in the 14th century under the orders of Edward I of England.  About 30-40 mins' drive south of us.
  La Rochelle was founded in the 10th century, and by the 12th century had become a very important port. It was from here that the Huguenots (protestants) fled to America in the 16th century. There is a lot to see in La Rochelle. Try to park at "le vieux port" for the best access to old streets and famous buildings. Be warned, it is very crowded in August!
  Pierre Loti's house in Rochefort. He  (1850-1923) was an eccentric, barely 5′ tall, and a great collector of items from all over the world.  Now open to the public, the house is as he lived in it.
  Chateau de la Roche Courbonne, between Rochefort and Saintes. A lovely day out and a great example of 17th century architecture and landscaping.
 There is a lot to see in Saintes (half an hour east of us), to include this Roman amphitheatre, 40 AD.  Try to park near the cathedrals, and then walk up through nice little residential streets.
 Rochefort-Martrou Transporter Bridge built between 1898 and 1900 . It is located  Crossing the Charente River, it has a maximum height of 66.5 m and length of 175.5. It was abandoned in 1967 but refurbished by 1994 and is now a historical monument. Crossing on foot or a bicycle is still possible today from April to the end of October.
Created when the town of Rochefort was built in 1667, the Place Colbert (sometimes called Place des Demoiselles) is an attractive shopping and lunch centre framed by fine 18th century buildings. A guillotine for public executions was, till relatively recently, where the fountain now is.
  and – of course! – our own lovely properties deserve a visit from you too.  To book your holiday go to www.seasidefrance.com,
   www.seasidefrance.com