Snippets of French history: Mary Queen of Scots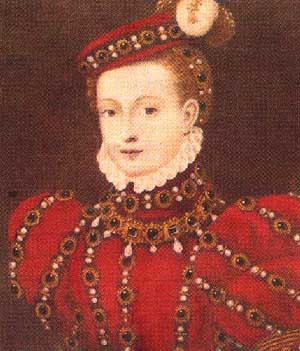 Mary Stuart (1542-1587) was born to the king of Scotland, James V, and his French queen, Marie de Guise, at Linthigow Palace in Scotland.  Her father died less than a week after her birth, so she was only 6 days old when she became Queen of Scotland.  Although there is evidence to suggest the baby was premature, she was healthy and thrived quickly.
 James V and Marie de Guise
Mary was the only legitimate child of James V and from the outset there was dispute as to who would rule as regents while Mary was under age. On the Roman Catholic side there was Cardinal Beaton who forged a codicil in the late king's will, and on the Protestant side there was the Earl of Arran, who won the race.  The Earl held a position of great power,  particularly as he was next in line to the throne.
 With the English king Henry VIII as her great uncle, her late father a king, her mother from a great French noble family, and the constant bickering between Roman Catholics and Protestants, it was inevitable that the child Mary lived in – and through – turbulent times.  Henry VIII in fact wished Mary to be betrothed to his young (sickly) son, Edward, but that fell through.
 The young king Francois of France and Mary. You can see what a child Francois was
Not without some difficulty Marie de Guise returned to France, Mary on tow, when the child was five years old. They were taken in to the French Court and financed and cared for by the wealthy de Guise family.
 The French Court was a hive of activity and entertainment compared to the dark, dour and silent Scottish Court.  The young Mary made many friends very quickly, and enjoyed a wholesome and happy childhood.  She must have always known that sooner or later she would have to return to Scotland to take over the crown, but in the meantime she grew in to an attractive and pert girl, very bright, affectionate, vivacious and clever.  She could speak Scottish (Gaelic) and French, of course, but also English, Latin, Greek and Spanish.  She excelled at falconry and riding, and produced exquisite embroidery.
At the age of 15 she was married to the French prince, Francois, later to become king.  He was 14.  They must have made a droll sight because Mary was 5'11" (tall enough for a girl today, so exceptionally tall for her time) and Francois was barely 5′ tall.  However they got on very well and spent long hours together.  It is doubtful the marriage was consummated because Francois had un-descended testicles, was weak and sickly and there was no sign that the strange couple were anything other than good friends.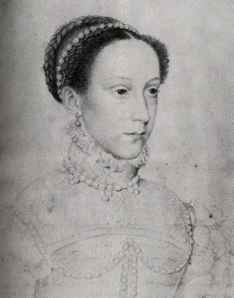 Ink & wash sketch of Mary aged 16
Francois' older brother died and he became king. He was just a kid, and so frail that nobles at the coronation had to hold the crown on to his head for him because he couldn't take the weight. A year later he died.
This left Mary a teenage widow and the Dowager queen of France when she was just 18.  Her mother-in-law was virtually the only person in the French Court who didn't like her – Catherine de Medici, a massively powerful woman and mother of the new king.  In no time at all Mary was all but forced to leave France and return to what was considered her "home" in Scotland.  She left in floods of tears, taking with her as many of her French retinue as she could, and leaving behind her the gay parties and dinners, to make her home in a cold and troubled country and, not so long after, to meet her death…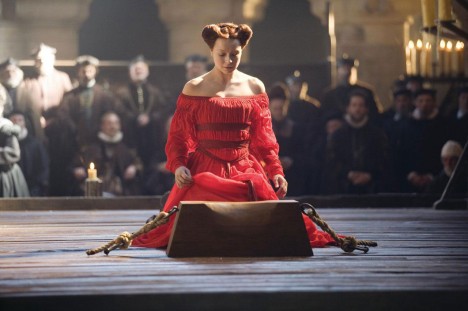 Modern portrayal of the execution of Mary. Apparently she was very brave and even joked, as her outer garments were removed, that she had never had so many people watch her undress. Underneath her dress she wore a red petticoat, brought over with her from France. She was aged 45 and had struggled through one disaster and tragedy after another. When the executioner asked, as was the tradition, her forgiveness, she replied: "I forgive you with all my heart for you will be putting an end to my troubles".
Interested in France ? Book your self-catering holiday in one of our lovely properties. Go to www.seasidefrance.com or tel. Sarah (UK) 07840161831