French writers, part 5. Victor Hugo. Great French men.
I wasn't going to write anything about Victor Hugo, judging him to be sufficiently well-known, but this morning something on the internet made me change my mind.  It was a discussion about theatre and somebody had stated:-  "les Miserables", meaning "the miserable ones"   It does not.  Les miserables means "the poor".  And that in turn made me think about Victor Hugo (1802-1885), quite possibly the greatest French writer of all time.
Victor Hugo was born to an army general and a bourgeoise lady, Sophie, from Nantes.  He had one brother, Eugene, who was schizophrenic.  Victor Hugo's childhood was spent largely in Spain, where his father was posted, and in Nantes with his mother's family.  It seems to have been a happy and active childhood, and the boy excelled at school and took a lively interest in a wide variety of subjects.  He was very close to his mother and, in the earlier years when his brother's illness was not clear, he spent many happy hours playing with Eugene.
However, when he was 11 his parents separated and his mother moved permanently to Nantes.  The boy Victor took this badly and longed to return to Spain.  It was this early time with the trauma of a broken home, moving between two countries (unusual in those days) and the health matters of his brother, that gave Victor Hugo the sensitivities that made him in to the undeniably great writer he became.
Victor Hugo's first few writings were disregarded by the schools and academies he attended because they were so brilliant that it was assumed he had had help, or had copied them.  Like many of his counterparts, he wrote extensively (approx. 130 books alone) and, as is the way with great writers, would turn his hand to poetry, playwrighting, essays, discourses, history books and novels.  Likewise, he used the pen to express his politics, in particular his dissatisfaction with Napoleon III and disappointment (like many others) in the post-Revolution politics of France. He championed the poor and fought against the injustice of the establishment.
(At one stage Victor Hugo was Mayor of a section of Paris and in fact took part in the repression of much of the disaffected working-class of the area, something he greatly regretted in later years*.)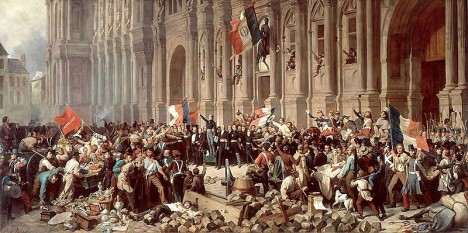 French Revoltion of 3 days, 1848
He was only 19 when his mother died and he grieved for a long time. Shortly after this his brother Eugene was committed to an asylum.  Victor Hugo married some years later and had five children, the first of whom died as a small baby.  When she was only 19, his adored daughter, Leopoldine, drowned in a boating accident. It was perhaps this string of tragedies that led Hugo to become more and more politically out-spoken and he finally had to go in to voluntary exile.  After Leopoldine's death he wrote very little.  He moved to Jersey for several years but was then booted out because of a firey criticism of Queen Vicotria.  He then lived in Guernsey for several years.
By now he was famous and wealthy. He returned to Paris to many admirers.  Although he was close to his remaining children, he surrounded himself more and more with like-minded intellectuals who would gather for soirees at his house in Paris.  His restless spirit made him move several times, once to Brussels, and then to Luxembourg, but he finally returned to Paris, where he died aged 83.  His last words were "je vois la lumiere noire …" (I see black light).
Juliette Drouet, one of Hugo's many mistresses
Victor Hugo was one of those few writers that will remain alive forever and will always be admired not just in literary circles but by the public in general.  He has gone down in history as a Great, and rightly so.
* There were two mini-revolutions in France, in 1830 and again in 1848.
Interested in France ? Book your holiday near La Rochelle:- www.seasidefrance.com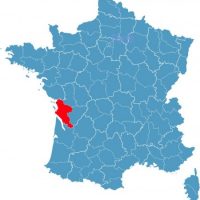 www.seasidefrance.com
Click here for more Victor Hugo