Every picture tells a story: on how to read Art. Part 13.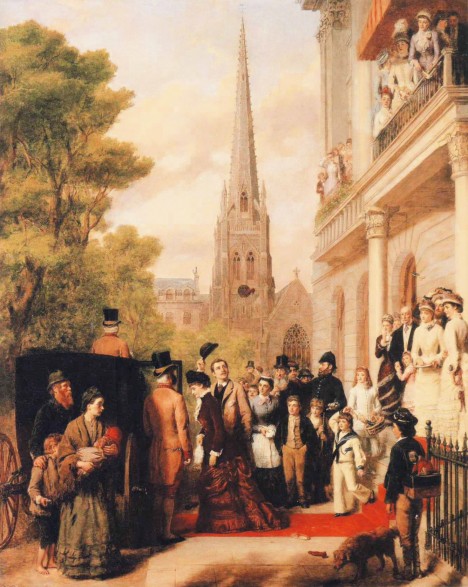 The Victorian era ushered in a strong feeling of mortality, often astoundingly hypocritical, but nonetheless a time when social consciousness began to take a foothold in society as we know it today.
Writers like Dickens brought attention to the plight of the poor, and artists took up this theme with gusto.  The plight of the unfortunate members of society was split neatly in to two camps: those who were poor because they were born poor and those that were poor because they had been foolish.
Alcoholism, gambling and immorality in women were the main targets.  This picture is called "For Better or for Worse" and was painted in London by William Powell frith in the 1850s.
We see a newly-wed couple about to climb in to their coach to set off to their new home or on their honeymoon.  The young bride is wearing a gorgeous red satin dress.  She makes her way carefully forwards. The young groom is the centre-piece of the picture as he raises his hat in farewell …. he seems to be looking up at one of the ladies on the balcony above. Behind them the bride's family, clearly affluent, bid the couple farewell.  In the background is the church.  The scene of full of cheer and is bathed in a gentle golden light as the couple make their way down the red carpet to the awaiting coach …. But we pick up instantly the message: the groom has married for better.  Why does he appear to be looking at the lady on the balcony?
On the pavement stand a housemaid, a policeman, a man in a top hat, some children throwing rice (rice was thrown before confetti came along), some ordinary folk to include a music-box boy with his monkey.  A couple of slippers lie on the pavement – it was also traditional to throw slippers.
On our side of the coach, in the shadows, and out of sight, there stands a destitute family, poverty-stricken, watching … and we suddenly realize that this is the same couple.  They have got in to their coach, which represents their future life together, and they have descended the other side, in to the street.
We are left to guess why.
Catherine Broughton is a novelist, a poet and an artist.  She is widely travelled and writes regularly for magazines and blog sites.  Her sketches are on her web site http://turquoisemoon.co.uk .  Her books are available from Amazon and on Kindle, or can be ordered from several leading book stores.
If you enjoyed this item please share.
Catherine Broughton is a novelist, a poet and an artist.  Her books are available as e-books on this site:-
https://payhip.com/b/tEva            "A Call from France"
https://payhip.com/b/OTiQ          "French Sand"
https://payhip.com/b/BLkF         "The Man with Green Fingers"
https://payhip.com/b/1Ghq        "Saying Nothing"
They are also available on Amazon & Kindle, or can be ordered as paperbacks from most leading book stores and libraries.