Violette Szabo, a heroine of World War II. Snippets of French history.
Violette Bushell was born in Paris to a French mother, who was a dressmaker, and an English taxi driver father.  She had four brothers and was a tomboy. Along with her brothers, her father taught her to shoot at an early age. She was sporty and very fit.
Her parents moved to England to live but, because it took them a while to settle, find a house and jobs, they left Violette and one of her brothers with an aunt in northern France.  Violette's French was therefore fluent.  She was eleven years old when she moved to the Brixton area of England   In later years, she delighted her fellow spies and the hierarchy of the British Intelligence with her Cockney accent.
Furthermore she was only 5'3″ (1.6 m), very pretty, slender and feminine.
  Violette's home in London
Violette left school when she was fourteen, as was the norm in working-class families, and found work in a variety of places.  When war broke out she was working at the perfume counter in Woolworth's on Oxford Street.  Along with thousands of other British young women she joined the land army and from there went to work in an armaments factory in London.
To this day the French celebrate Bastille Day, the day in 1789 when the storming of the old Paris prison, the Bastille, triggered the French Revolution and … well, for the purposes of this article I will keep my opinions to myself!!  Suffice to say that at the Bastille Day celebrations among the French living in London at that time she met a thirty-one year-old French officer named Etienne Szabo.  Violette had been sent by her mother to the Bastille celebrations, along with a friend, to find a homesick French soldier and bring him home for supper – rather a nice little story.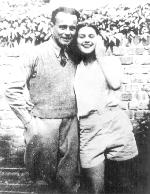 Violette with Etienne
Violette was only nineteen, but during the war years people did meet and marry quickly and, after barely six weeks, Violette and Etienne married, and she became the Violette Szabo that has gone down in British history.
Etienne left for north Africa within a fortnight and was killed in action a year later.  Violette had written to him to tell him they were expecting a baby, but  he never saw his daughter, Tania, born in 1942.
Violette left her baby with a childminder, as so many mothers had to, and it was while she was working in the armaments factory that she came to the attention of the British S.O.E (Special Operations Executive).  Her French was fluent, she was sharp and quick-witted, approachable and very fit.  She accepted to become a spy.
  Violette with Tania
Under the cover of a nursing course, she was sent to Scotland and then to Hampshire for training.  She was not allowed to even tell her parents.  She received very intensive training in escape and evasion, cryptography (code breaking), uniform recognition, shooting and arms.  Finally she was taught to parachute and on her very first jump twisted her ankle as she landed.  It was this same ankle that was to finally let her down a year later.
Violette was parachuted in to northern France where she picked up valuable information about the local factories producing war materials for the Germans.  She was smuggled back to England for a while and saw her baby and parents.  Knowing how my own father was, and being parents ourselves, I think at least Violette's father – if not her mother – must have guessed that she was not training to be a nurse.
Violette was parachuted in to France again that summer and her mission this time was to try to coordinate the activities of the Maquis (French Resistance) in the sabotage of German communications.
Tragically, she did not follow the advice of her commander and cycle unobtrusively to her destinations, but accepted a lift from a French Resistance man in a car.   At this time French civilians were not allowed to drive, so it was in some ways inevitable that they were stopped by the Germans.  It may well be that her weak ankle was giving her trouble and she felt she couldn't cycle.  We will never know.
Anyway, they were stopped and made a run for it.  Violette's ankle soon gave way and, to allow her companion to get away safely, she propped herself and her guns up against a tree and single-handedly held off nine Germans for over half an hour.
Violette was wearing a light cotton frock.  She suffered extreme cold throughout the winter in the concentration camp, and also endured torture, starvation, illness, violence and hard labour for almost a year
Aged 23, not long before her 24th birthday,  she was shot as a spy.
Violette's daughter, Tania, who now lives in Wales, received the George Cross on her mother's behalf when she was five.   From the London Gazette, 1946:-
St. James's Palace, S.W.1. 17 December 1946

The KING has been graciously pleased to award the GEORGE CROSS to: —

Violette, Madame SZABO (deceased), Women's Transport Service (First Aid Nursing Yeomanry).

Madame Szabo volunteered to undertake a particularly dangerous mission in France. She was parachuted into France in April, 1944, and undertook the task with enthusiasm. In her execution of the delicate researches entailed she showed great presence of mind and astuteness. She was twice arrested by the German security authorities but each time managed to get away. Eventually, however, with other members of her group, she was surrounded by the Gestapo in a house in the southwest of France. Resistance appeared hopeless but Madame Szabo, seizing a Sten-gun and as much ammunition as she could carry, barricaded herself in part of the house and, exchanging shot for shot with the enemy, killed or wounded several of them. By constant movement, she avoided being cornered and fought until she dropped exhausted. She was arrested and had to undergo solitary confinement. She was then continuously and atrociously tortured but never by word or deed gave away any of her acquaintances or told the enemy anything of any value. She was ultimately executed. Madame Szabo gave a magnificent example of courage and steadfastness.
The Croix de guerre avec etoile de bronze was awarded by the French government in 1947 and the Médaille de la Résistance in 1973. As one of the SOE agents who died for the liberation of France, Lieutenant Violette Szabo, FANY, is listed on the Valençay SOE Memorial.
for Mata Hari click here
Interested in France ? Book your holiday in the Charente Maritime www.seasidefrance.com