Spain … the Ebro basin.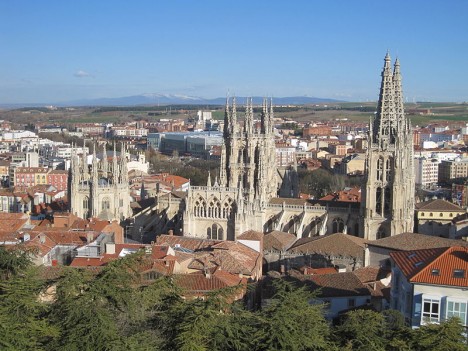 We crossed the border near St Jean de Luz.  The caravan ran along behind us, as good as gold.
Our trusty Nissan Patrol dealt with the hills, as indeed it should, like a dream and made us remember our poor Chrysler Grand Voyager, who faithfully towed our 1.5 tons caravan all over southern Europe for five months.  This caravan is lighter and the car heavier.  That old Chrysler would weep if he knew.
Despite leaving brilliant sunshine and mild climes in France, we hit utterly bitter BITTER weather as soon as we were in Spain.  We have frequently driven through the Pyrenees on one trip or another, so we knew the temperatures would drop – but not like this!  Even after we had left the mountains and headed down towards Burgos, the freezing weather, accompanied by an icily slicing wind, continued.
I had always wanted to visit Burgos.  Isabella of Castille (see yesterday's blog) spent time there and, dating back to around the year 880, boasts some amazing old buildings.  The Gothic churches, although not quite my cup of tea, are breath-taking in their own right, and the old centre is truly lovely.  It was also the headquarters of Franco for a while – not that that is a reason to visit – but anyway, it was so so bitterly cold and we couldn't find anywhere to park, so we pressed on.  Burgos has missed me on this occasion.
By the by, I had just arrived in Spain when Franco died – in 1975.  I had been there a couple of months and had (compliments of the boyfriend) picked up a massive fine for some driving offence.  It was the equivalent of something like £100 which was an utter fortune then, especially when one is young.  Anyway, Franco died, and one of the first things King Juan Carlos did was to pardon all petty crime.  As a result I got my £100 back (but didn't tell the boyfriend), and thanked, albeit only in my heart, the king for coming to the throne and Franco for dying.
We motored on down to Salamanca.
Salamanca is Spain's answer to Cambridge.  It is an ancient University town, rich in architecture and history, and produces much of the intellectual elite of the world.  There is a 1st century Roman bridge and much of the layout and design of the buildings was later influenced by Moor occupation.  Because of the students from all over the world, there is a vibrant and diverse feeling to the town, making it a most pleasant place to be …. except when it is bitterly cold and you are in a caravan, in which case you have no choice but to drive on, leaving Salamanca to another day.
I suppose we were at the edge of the Ebro Basin – I need to look at a map – which is notoriously cold in the winter and notoriously hot in the summer.  I had driven down through the Ebro basin years earlier (with the £100-fine-boyfriend) in suffocating heat.  I have lived in many Very Hot places but, let me tell you, this was the Hot version of Very Hot.  Also dusty – a hot dusty breeze that never let up.  We were in an old van. Don't know what kind of van but it was blue and had four wheels.  At some stage a filter of some sort – something to do with the fuel I seem to remember – broke.  We pulled to a halt in the middle of this deserted and sweltering dust bowl.  The filter in question was made of cork, so I used the back of my precious sketch pad to cut an identical one out of cardboard, and this kept us going till we reached a town.
If you enjoyed this item, please share!
Catherine Broughton is a novelist, a poet and an artist. Her books are on Amazon and Kindle, or can be ordered from most leading book stores and libraries.  More about Catherine Broughton, to include her entertaining blogs and her sketches, on http://turquoisemoon.co.uk
Click below for "A Call from France", a true story.
http://www.amazon.com/Call-From-France-Catherine-Broughton/dp/1475116659/ref=sr_1_2?ie=UTF8&qid=1367487299&sr=8-2&keywords=catherine+broughton
Click below for Burgos:-
http://www.spain.info/en/que-quieres/ciudades-pueblos/otros-destinos/burgos.html