Snippets of French history: Isadora Duncan, an American dancer.
Isadora Duncan was an American (1877 – 1927) who lived and died in France.
She has her tragic place in history more due to her unusual philosophy and extrovert ways, in an era where conformity was more the norm and, unlike her counterparts such Coco Chanel, does not have a rags-to-riches story to tell, nor stunning invention or breakthrough in science.
She was born in San Francisco, the youngest of four children, to a middle-class family of business people.  Her parents divorced when she was little and, as far as I am aware, she didn't see her father again.  Alongside her mother Isadora gave dance and music lessons, and she tried to get in to theatre.  She was slightly wild, even reckless, and hated conformity in any form.  She was interested in Hellenistic history, and the flowing scarves and simple tunics for which she eventually became famous, date from this "Greek" phase in her life.
Unhappy with the American way of life, Isadora moved to London in 1899, aged 21.  There she was caught-up in the great surge of "back to nature" feeling that prevailed in almost all art forms, from the recent pre-Raphaelites with their precision for plant life through to Art Nouveau and its flowing forms.  The Arts & Crafts movement incorporated the very heathen designs and modes that Isadora loved and, coinciding with freedom of speech, votes for women, shorter and looser clothing, Isadora found herself an icon of the dance form of art.
From London she moved to Paris where she set up a dance school which she named The Isadorables.  Although she tried to encourage boys to dance, her pupils remained 100% girls.  She rejected classical ballet with its strict rules and regulations, and she danced barefoot, wearing flowing garments made of loose voile, sometimes very scantily clad.  Her style, with its improvisations and primitive tones, was embraced within the arty and thence the fashionable sectors of Paris, and she soon became famous.
Impressed by the Russian Revolution Isadora moved to Russia for a short while, where she met and married a Russian poet.  The marriage didn't last; he was a violent and emotional man who eventually killed himself – long after Isadora had returned to Europe.
 the poet Sergei Yesenin, eighteen years younger than Isadora
Isadora had two illigitimate children, by different men, one of whom was of the Singer (sewing machine) family.  Both children, aged 3 and 7, died in a road accident – drowned, along with their nanny, when the car went in to a river.  Isadora, mad with grief, lived in Switzerland for a while, and then moved to Nice in the south of France.
It is a cruel irony that Isadora was killed by one of her own scarves.  The floaty draperies she always liked to wear made her the icon she became, but also caused her death when her scarf, billowing out behind her as she rode in an open car, got caught in a wheel and broke her neck.
Interested in France ?  Book your holiday in the Charente Maritime.  Self-catering properties large and small. Contact Sarah:-  [email protected]  Visit our web site www.seasidefrance.com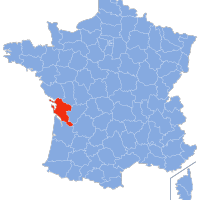 Click here for the Grand Canyon