History in this part of France, part 6. Rochefort.
Rochefort-sur-Mer was a military town for many hundreds of years and, when we first arrived in France, over 20 years ago, it was a dull grey-and-black-and-brown town, run-down and grotty and smelling of cats and septic tanks. The straight military-style streets arranged like parade grounds criss-crossed between the tall dark buildings and I remember staring aghast at the once-beautiful stonework and commenting that it all needed to be spruced-up.
In the 1990s, however, Rochefort was brought back to life.  The buildings, a bit at a time, were cleaned to reveal exquisite stone work and fine, aligned architecture.  The central place, a scruffy non-entity, was re-paved and planted.  The ineffectual-looking shops and cafes and restaurants pulled thier socks up and the stunning post office building, hitherto a huge grey hulk, was cleaned and repaired …. and Rochefort entered the real world.
Today Rochefort, while absolutely a working town, is an attractive place to visit, with good shops (both in the centre, surrounding the place, (where the last guillotine stood until relatively recently) or in the zones comerciales on the outskirts), nice restaurants and cafes where you can sit outside and enjoy the sun, and several interesting places to visit.
 the Corderie Royale built in 1665, then the longest building in Europe, to make rope for the ships built in Rochefort
  Run-down looking house, at one time typical of the town, but boasting (if you look closely) some fine stonework.  This particular house once belonged to Pierre Loti (1850-1923), a French eccentric better known in Istanbul than here.  Although unimposing from the outside, his house is extraordinary on the inside and well worth a visit.
  Transporter bridge built in 1898 over the river Charente.  YOu can still go for a little ride across. Quite fun.  A new bridge, similar to the ones over to the islands of Oleron and Re, was built, opening-up the area to tourism and getting rid of the never-ending traffic jams leading up to a 1950s bridge, now demolished.
  The surrounding countryside is generally flat, and I am not going to pretend it is pretty.  Lovely beaches, however, petticoat the coast line, and the climate is great.
  Reconstruction of the frigate Hermione (1700s), which started in 1997 and is now finished.  Although the ship lives in Rochefort it is sometimes away. In the old port in the centre of town, it takes about an hour to visit, though August queues can be very long.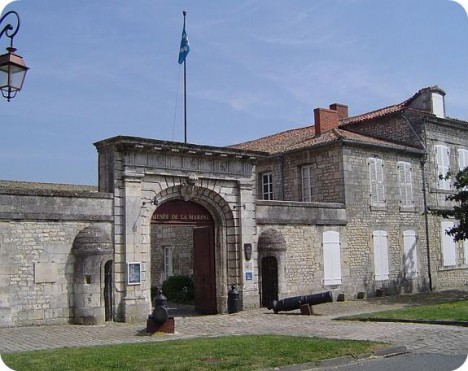 1665 – Pre-Napoleonic military buildings.
There is a huge history to Rochefort, of particular interest if you enjoy anything to do with the military, shipping, architecture and associated subjects.
interesting ?  Useful ?  Please share it !
Catherine Broughton is a novelist, a poet and an artist. Her books are available on Amazon and Kindle, or can be ordered from most big book stores.  "
 Click here for learning Italian
Click below for "A Call from France":-
http://www.amazon.com/Call-From-France-Catherine-Broughton/dp/1475116659/ref=sr_1_7?ie=UTF8&qid=1365949519&sr=8-7&keywords=catherine+broughton