The Nazi Bunker in La Rochelle, France
The U-boat bunkers in La Rochelle – (and all along the coast line here) have been known about since the WWII, but a "domestic" bunker has recently been found underneath an hotel in the centre of La Rochelle, close to the market.  It was discovered while the owners of the building started excavations with a view to installing underground parking and it is thought there are probably dozens of similar forgotten bunkers all over the town.  When this one was discovered everything was just as it has been left – a couple of toothbrushes on the basin, remains of some food, cups and glasses on the table.
It is now open to the public at a minor fee, and takes a good hour to look round.  It is surprisingly big, with a bar, a first aid room, WC (just the one it seems!) and many rooms for sleeping, living and keeping arms.  Cabinets display WWII relics of all sorts.
La Rochelle was a very important Atlantic base for the Germans during WWII and it was also a major submarine base.  Along with nearby Royan, the town remained German-occupied till the very end of the war, some 9 or 10 months after the Liberation of Paris, while all around the countryside and other towns had returned to the French and the Allied (mainly US and UK) forces.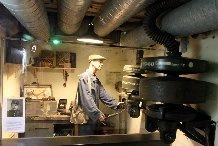 With the Allied invasion in Normandy in 1944 a vast number of German troupes re-grouped in La Rochelle.  It was, of course, essential to them that they maintain a force in the Atlantic against Allied shipping.  For the 35 000 citizens of La Rochelle, there were 22 000 Germans.  During the siege of La Rochelle German Luftwaffe planes were nonetheless able, several times a week, to get through the lines and drop food to the garrisons below.  The Free French Forces wanted a total attack on the town, and tried but failed.  The Allied forces left electricity and other essentials for the beleaguered citizens, but a huge part of the town was nonetheless destroyed before it was finally freed.
  Free French armoured car.
La Rochelle plays a very big part in French history, starting in the Xth Century.  It is well worth a visit, and you can hire bikes in the city centre, usually very cheaply.  It can be very crowded in the summer.
Interested in France ?  Book your holiday in our gites near La Rochelle www.seasidefrance.com
   flag of La Rochelle