Snippets of French history. Alexandre Dumas.
 Alexandre Dumas 1802 – 1870.  Author of "The Three Musketeers", "The Count of Monte Cristo" and many others.
Few people realize that Alexandre Dumas was a coloured gentleman. More precisely, he was of mixed race and, as is usually the case, the darker gene is dominant.  For the era in which he was born, his fame and success was noteworthy for that reason alone.  His books have been translated in to almost a hundred languages and are as popular today as they were at the time.
Alexandre Dumas' father, Thomas, was born in what is now called Haiti (then St.Domingue) to a French nobleman, the Marquis de la Pailleterie**, and a black slave woman.  As the child of a slave he was born a slave himself, but the father loved both child and mother.  He recognised his son as his own, regardless of his skin colour, and at the age of fourteen, when the child was considered old enough to leave his mother, he brought him to France where he received an excellent education and entered the military academy.  No more is known about the mother except that she was called Marie-Cessette Dumas and that she lived and eventually died in the big house, not in slave quarters.
  Thomas, father of Alexandre Dumas
Thomas was legally freed once he arrived in France and, being exceptionally bright and with the important influence of his father's entourage, went from strength to strength.  He was the first coloured man to reach the high rank of general in the French military.  At some stage in his early manhood he fell out with his father and changed his surname to his mother's, Dumas.  In the early 1800s (probably 1801) he married a French inn-keepr's daughter by the name of Marie-Louise Labouret.  However, by the time his little son, the famous Alexandre was four years old, he had died of cancer.
  Marie-Louise Labouret. These days we don't think about mixed-race marriage, but at the time it was quite something
Marie Louise brought up her two children (Alexandre had a sister) in poverty.  In later years Alexandre was to look after them with great love and care. They had very little education but Alexandre was an avid reader and, like his father, extremely intelligent.  On his side he had his father's aristocratic lineage and this, by the time he was 20, secured him an important post for the Duke of Orleans.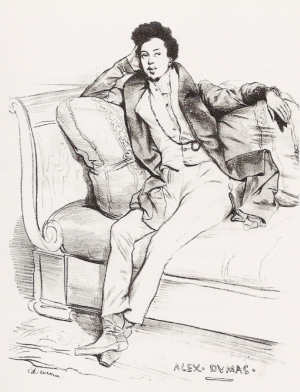 a sketch of Alexandre Dumas at age 27
Alexandre Dumas started, as writers do, with articles for newspapers and magazines.  He wrote several successful plays, and from there went on to novels.  He was prolific.  He had many influential friends, was extremely sociable, witty, good company, highly likeable and the English playwright, Watts Phillips, described him as "The most generous and large-hearted being in the world".  In 1840, when he was 38, he married an actress named Ida Ferrier and had three children by her, one of whom was Alexandre Dumas fils (meaning "son"), sometimes confused with the father as he also became a successful writer.
Dumas rapidly became a wealthy man.  As fashion dictated, he had many mistresses – apparently some forty of them! – and four illegitimate children as well as three children by his wife.
  The Chateau de Monte Cristo, Dumas' house.  Apart from its name and its owner has nothing to do with the book
Despite his success and many friends in the right places, Dumas had frequently to put up with racial discrimination.  To a man who had insulted him about his African heritage, Dumas calmly replied:_
" My father was a mulatto**, my grandfather was a Negro, and my great-grandfather a monkey. You see, Sir, my family starts where yours ends".
Alexandre Dumas died when he was 68 and was buried in Picardy, where he was born.  In 2002 he was re-interred in the Paris Pantheon alongside Victor Hugo and Emile Zola and other great French writers.
 ** Alexandre Dumas was also given the surname of de la Pailleterie when he was born, but he dropped it, like his father before him, in favour of the name Dumas
** mulatto = a person of mixed race taken from the word "mule".
 Interested in France ? Book your holiday near La Rochelle: www.seasidefrance.com