Rulers of France after the French Revolution. Kings, emperors and presidents.
Napoleon Bonaparte 1804 – 1814. Defeated by the British at the Battle of Waterloo.
  Napoleon II (1811 – 1832) was the son of Napoleon I and his second wife, Marie of Austria.  Napoleon named his son emperor when he (Napoleon I) abdicated, but the child never actually ruled. He was "emperor" for just a few days in April 1814 and then for a month or so in June/July 1815.  He was only 21 when he died.
  King Louis XVIII, house of Bourbon, 1814 – 1815 (just 11 months)
Napoleon Bonaparte again, who overthrew the king, but then only 3 months later surrendered to the British and was transported to St Helena where he died in July 1815.  Note : the nearby (ie near where I live) town of Rochefort is where he surrendered and he was kept overnight on nearby Ile d'Aix which you can visit by boat
  Napoleon III 1852 – 1870.  He was the first president to be elected by popular vote, but in 1851 he took the throne and proclaimed himself king and emperor.  He was the nephew of Napoleon Bonaparte.  Overthrown and died in England

 Louis XVIII back again, king 1795 – 1824. He was the last French monarch to die while reigning. He had no children and the crown passed to his brother, Charles.
  King Charles X, House of Bourbon, Comte d'Artois.  He reigned 6 years and abdicated in favour of his grandson, Henri d'Artois, aged 9.
  Louis XIX, son of Charles X, reign lasted 20 minutes !  Well, not really. Historians argue that he was king for the 20 minutes or so between the signature of the abdication of the previous king (his father) and the swearing-in of the new king (his son).
  Henri d'Artois (Henri V), Comte de Chambord was just a child of nine when he became king; his reign lasted 3 months. Some historians argue that he was never really the king, but he was, even though a child and his reign short-lived. He was deposed by popular vote in favour of the last king, Louis-Philippe.
 Louis-Philippe of Orleans 1830 – 1848 – reign lasted 18 years. The last King of France.
Oddly enough, although they got rid of their monarchy, the French are fascinated by royal families.  Their magazines positively groan at the seams with photos and articles on the British Royal Family.  Second in line come the Monaco family, the nearest thing the French have got to royalty.  After that come the royal households of the rest of Europe, all photographed and written about – and read – with gusto.
Interested in France ?  Book your holiday near La Rochelle. Lovely self-catering properties big and small. Visit seasidefrance.com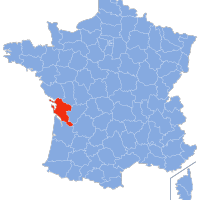 click here         for the last king of France
click here         for Josephine Bonaparte